So It has been ages since I have done a Tuesday Transformation!
But I'm finaly back with Daisy Duck.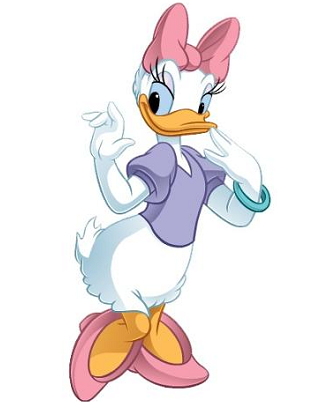 Daisy Duck is known for being super sassy!
I have always loved her and when I got a top with her face expressions on from primark it seemed like the perfect transformation tuesday.
(had to wear a daisy duck lilac jumper too ha ha)
Daisy has a very simple purple shade across the whole lid so it makes it a fab spring look for those of you who dont often wear eye shadow,but I did use three shades in this look just for abit mroe depth!
I used my Loreal Color Infalliablle's in Innocent Turquois,Sassy Marshmallow and Naughty Strawberry.
I started by lightly applying Naughty Strawberry across the lid with my ring finger very lightly as base.
Then I applied Sassy Marshmallow into the outer part of the eye and blended the two together lightly with a blending blush.
Then with the same blending blush I took Naughty Strawberry again and applied it to the outer V and blended it out and down towards the tear duct.
Then I just took a light lilac shadow I had and blended this into the outer V over the previous colour to add that purple look daisy has,and also took this under the eye.
I applied liquid liner to the upper lid but stopped it at the outer part of my eye as daisy has very simple eyes but long lashes,so all you want to do is make the ellusion of thicker lashes.
I applied white & purple liner to the bottom waterline.
Then I curled my lashes and applied Rimmels Lash Accelerator mascara (fab stuff!) and applied a little bit of Collections Clam crystals in Hustle on the inner top lash line to add a more wide eye look!
Just pair this with a nude lip and you've got a quick and easy spring look.